IBSS collection of marine parasites – bibliography / Коллекция паразитов морских рыб и беспозвоночных ФИЦ ИнБЮМ — библиография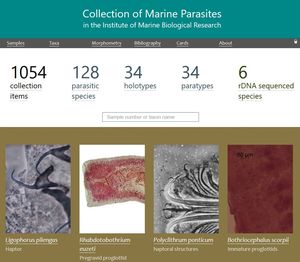 Постоянная ссылка на коллекцию
The collection of parasites from marine fishes and invertebrates, which is curated by the A. O. Kovalevsky Institute of Biology of the Southern Seas of the Russian Academy of Science, was founded in the late 1950s by research workers of Sevastopol Biological Station. The greatest contributions to the establishment of this collection were made by V. M. Nikolaeva, A. M. Parukhin, T. N. Mordvinova, and L. P. Tkachuk.
The collection continues to grow in size as type- and voucher-material of new and other taxa are added.
In 2015 and 2016, the Russian Foundation for Basic Research supported the project for the creation of an on-line electronic catalogue of the collection and an associated taxonomic database via RFBR Grant No. 15-29-02684 ofi-m.
More info: marineparasites.org